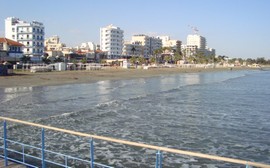 Larnaca is one of the best cities to buy property in in terms of affordability. The city has a wide selection of properties to choose from, both cheap and luxurious, affordable for purchase at much lower rates than most major cities across the island. Larnaca is the third largest city on the island and is also where Larnaca International Airport is located. Larnaca is easily accessible and offers a very high standard of living while still being a very affordable place to live. The city prides itself on its rich history and culture and serves as the perfect place to experience the vibrant culture of Cyprus. The city has seen a lot off development over the past few decades and is now a very popular destination for tourists and investors making it an excellent choice for anyone looking to buy property in Larnaca.
Cheap and luxury properties for sale in Larnaca
Larnaca, like many of the other cities across the island, is an exciting destination for anyone looking to visit the Mediterranean. It is also a great place to own property thanks to its highly advantageous location and the aforementioned low cost of living and low cost of property. There are several luxury properties available for purchase at very low prices in Larnaca thanks to developers like Cyfield or Plus Properties who have done a lot of work in the area over the years. Many of Larnaca's residents live there on a temporary basis, merely purchasing summer homes that they visit annually. Purchasing real estate in Larnaca is incredibly easy thanks to how affordable it is and how simple the process is and many investors or vacationers looking to own a piece of luxury in Cyprus have already begun purchasing high end real estate in the city.