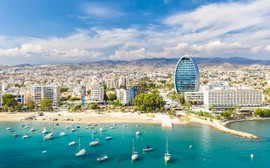 Limassol is the second largest city in Cyprus, but is the heart of commerce and development in the island with many of the biggest names in real estate industry, both local and international, being very active in the area. Some of the most notable property developers in the area include Prime Property, Imperio and Pafilia among many others. Limassol is located right by the sea and many of the island's most exclusive seaside properties can be found in Limassol while dozens of others are set to go up over the next few years as real estate developers strive to deliver bigger, better and more luxury projects in the area. The city has a rich and vibrant history and offers a blend of modern luxury living and centuries old Cypriot culture. There is a lot of infrastructural development underway in the city with both private developers and city authorities doing everything they can to turn Limassol into a world class city. Buying property in Limassol puts the owner in the middle of one of the fastest growing metropolitan areas in the Mediterranean. Some of the most ambitious real estate projects can be found in Limassol including The One Limassol and Trilogy, the tallest buildings on the island, and various world class resorts. In addition to being a popular tourist destination, Limassol is also a vibrant business centre and a number of companies both international and local have their offices there. Many business people looking to be close to various industries in Cyprus choose to rent properties in Limassol, viewing it as a business hub that rivals even the capital. For these reasons, renting a property in Limassol is considered an amazing choice.
Luxury and cheap properties to let in Limassol
Limassol is one of the most popular destinations for holiday makers, business people and investors which is why there is a large number of cheap and luxury properties to let in Limassol. The city offers a wide variety of properties to choose from thanks to its large community of developers backed by a healthy flow of funding from investors interested in building luxury real estate to rent in Limassol. Some of the most exclusive and the most opulent properties to let in Limassol are located on Makarios Avenue, one of the most cosmopolitan streets in the city. Cheap properties to let in Limassol are primarily located in suburban areas. As the city continues to develop at a rapid pace, property prices will likely shoot up meaning that now is the best time to rent cheap property in Limassol. Tenants interested in luxury property, however, have a steady supply of new real estate to choose from with new properties going up in the city every year.