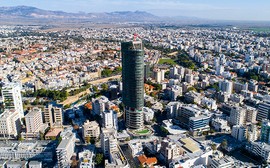 Nicosia, also known as Lefkosia, is the capital and largest city in Cyprus. It is known for its fascinating history, archeological museums, Venetian Walls, and being the only divided city in the world. Located in the centre of the island and easily reachable from almost anywhere else in Cyprus, Nicosia is home to many businesses, developers, ministries, embassies and more. Buying property in Nicosia means being at the centre of Cyprus both physically and figuratively meaning everything a resident could want, both in terms of business and leisure, is within easy reach. Nicosia is not located by the shoreline and therefore there are no beautiful beaches a few minutes' walk away but the city serves as the central hub of culture and commerce. Buying a property in Nicosia means owning a piece of real estate right in the centre of the island's cultural and economic heart.
Cheap and luxury properties for sale in Nicosia
Nicosia is an excellent place to buy property and here are countless properties for sale including both cheap and luxury ones. Few cities can match Nicosia in terms of sheer volume of luxury apartments available for sale. Developers like Cyfield appear to be working overtime to raise world class buildings all over the city with many of the island's most expensive and exclusive properties being located within the capital. The most notable of these buildings is 360 Nicosia, an imposing monument to the city's determination to become a centre of business and culture in the Mediterranean. There are countless projects underway along with a wide range of luxury properties for sale in Nicosia and developers are working to make sure that more keep springing up for the next few years.