Property for sale in Aradippou
Reasons to buy a property in Aradippou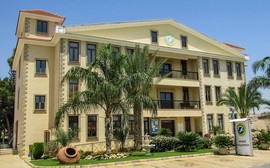 Aradippou is a town and municipality located on the outskirts of Larnaca. With a relatively large population of over 20000 people, the town is among the more populous towns across the island. Aradippou has seen a lot of change over the past few decades, becoming a favourite among both investors and developers alike. This is thanks, in part, to the town's location as it is located very close to the Larnaca International Airport which is the most important airport in Cyprus. Aradippou is easily accessible and has a great deal of potential for development thanks to its many large, sprawling green spaces. It is known for being the second greenest municipality in Cyprus. The town also has a vibrant history and culture which visitors and residents can experience through its many churches, chapels and other historical sites. Aradippou provides a very high standard of living while still managing to remain affordable. Thanks to the hospitality of the locals, the low cost and high quality of life in the town and its excellent location, buying property in Aradippou is considered by many investors to be a very good decision as can be seen by the large number of them who are interested in buying property in Aradippou.
Cheap and luxury real estate for sale in Aradippou
Aradippou's residential area offers a healthy mix of both affordable and luxurious properties. Many of the town's residents are temporary residents, simply purchasing properties with the intention of using them as summer getaways to be visited annually at most. The town has a wide selection of properties for sale and with investors being so interested in the town, developers are also developing an interest in undertaking various projects in the area. Buying real estate in Aradippou is a bit more affordable than in some other areas with some of the more affordable properties being priced at under 100000 euros. Property buyers with an interest in more exclusive real estate, however, will find no shortage of luxury property in Aradippou priced in the upper hundred thousands. Regardless of what kind of property the buyer is interested in, Aradippou has something for everyone.
Read more